The Power of Words
ZMS Media Specialist secures grant allowing students an opportunity to work with an Indiana author.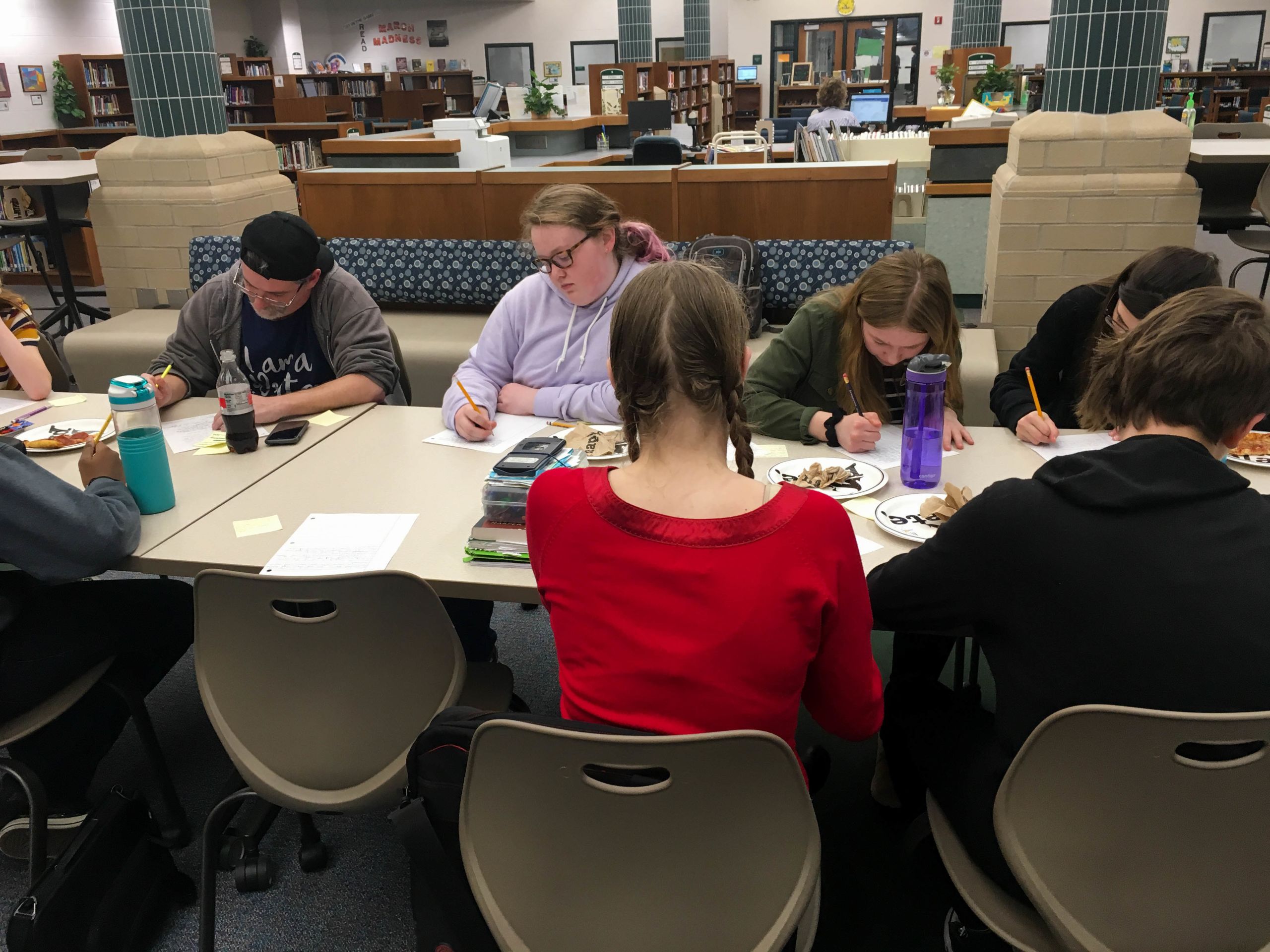 Experiential Learning with Indiana Author
Students read and practice writing all the time in their ZCS language arts courses. Students are challenged to put their writing skills into practice through coursework and instruction.
But what happens when students have an opportunity to spend an hour with an author - someone using his craft to entertain young readers through his gift of writing? Inspiration. This connection elevates learning. One of the greatest forms of learning is learning through experience, through reflection on doing.
ZMS Media Specialist Kelsey Buckley wanted to give ZMS students an experience. Kelsey won an Indiana Humanities grant to participate in the Novel Conversations Speakers Program. This program funds organizations to bring an Indiana author to the community. The program was funded by a grant from the Glick Fund, a fund of the Central Indiana Community Foundation.
As part of the grant, Indiana Author John David Anderson visited Zionsville Middle School.
Author John David Anderson's Biography
John David Anderson, or Dave as he prefers to be called, is the critically acclaimed author of several books for young people, including Ms. Bixby's Last Day (a New York Times Editors' Choice, Young Hoosier Book, and an ALA Notable Book), Posted, Sidekicked, The Dungeoneers and Standard Hero Behavior (a Young Hoosier Book). He frequently visits and Skypes with schools across the country to talk about the forces of inspiration and imagination and the need for young readers and writers to be the heroes of their own narratives. 
A graduate of both Indiana University and the University of Illinois, where he taught writing and literature for seven years, Dave is a self-proclaimed root beer connoisseur and chocolate fiend. He lives with his wife, two kids and immense Lego collection in his hometown of Indianapolis.
It is important for our students to see themselves as readers and writers, and that's exactly what this experience did! Our students had the opportunity to learn about the writing process – especially how important and time-consuming the revision process can be. (John David Anderson shared that he usually spends five or six weeks writing a book and five months revising it.) They also learned about different writing techniques like show, don't tell, hooks, and figurative language and had time to try those techniques and receive feedback from an author. Words have power, and hopefully our students see that their words can change the world. Indiana Author John David Anderson visited ZMS as part of this speaker series.
Anderson told students that stories are ways in which we create community. Through demonstration, activity and humor he built a casual atmosphere where kids felt empowered to share their thoughts and words and then practice their own writing. For a one hour session, students became a community of writers. Anderson told students he wanted them to have the freedom to write without the pressure of examination or grading. And he validated the fears that students sometimes have when writing by reminding them that writing takes courage.
Through humor, Anderson elicited student excitement. He told students that he believes humor is one way to deal with very complicated things. He had students laughing and sharing...and writing.
Anderson spent two days on campus working with students throughout ZMS.
A huge thank you to Kelsey Buckley for securing this grant and to the ZMS PTO for helping cover costs so that ZMS students could experience the writing process with an accomplished author. It is opportunities like this that just might inspire a young writer to have the courage to dream...and it might just lead to another accomplished author in the years to come!
#zcsstrong